Persepolis, the city of the Persians, is located in 16km from Shiraz in Fars province. This old glorious place was the ceremonial capital of the Achaemenid empire (550-330 BC). It is trusted that Cyrus the great choose this place which has a unique geography potential: Remote and mountainous region Close to stream Pulvar and also the Kor river (its name is got from the name "Kourosh" original Persian name of the great Cyrus) at east side of the mountain of Rahmat (merci) a holy mountain. This enormous 1.6 square kilometers site is one of Iran's UNESCO World Heritage Sites.it was not the capital of the country but a royal palace and a ceremonial capital for important events such as Norooz (Persian new year) also religious ceremonies. We can see the scenes of different people praying or sacrificing on walls. Each one has special appearance and its diversity shows the diversity of the religion of that time and the liberty that the people had and a little world as the different people gather, talk and know each other.
Inscriptions support the belief that Dyrous the first has constructed it and Archaeological research proves the earliest remain date backs to 512 BC. According to the description written in "Mikhy" script, recently translated, the original name of this enormous place is "Parseh".
This historical site includes 125.000 square meters terrace. One part of it is artificially constructed and a part of it is cut off a mountain and has the wonderful carved stone.
The region included 7 chamber and palaces, stairs, great columns, and 2000 stone carved figures all over the remained walls and columns. The mausoleum of Cyrus the great which is constructed as a Ziggurat and the tomb of Kamboujieh could be found.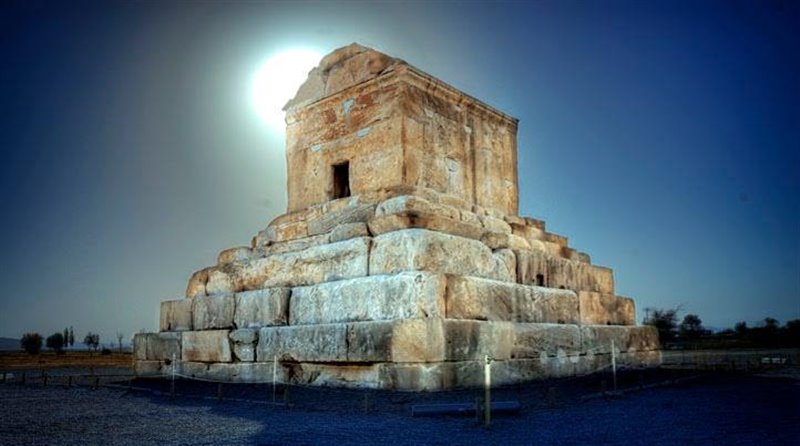 The construction of the main stairway, known as Perspolise stairway, was begun on 512 BC. The 111steps measured 23 feet wide and rise of 3.9 inches. The stairs have been structured to allow the noble and royal family to maintain a regal appearance and walk easily. their beautiful outfit is shown on walls.
Another interesting gate is the "gate of all nations". The name of it is all clear and shows the importance and respect pluralism and human right in Iran more than 2500 years ago.
After the war of the Alexander and 30 days of resistance by great Persian commander Ariobarzane, Alexander destroyed Persepolis by fire and allow his army to loot the house around it.
The remained column by its stone carved head and walls by its wonderful carved figures and legendary animals are still great attraction of Iran and you can feel its greatness.